Land Rover Freelander 2 FL2 Range Rover Evoque Haldex Fault Finding Problems & Solutions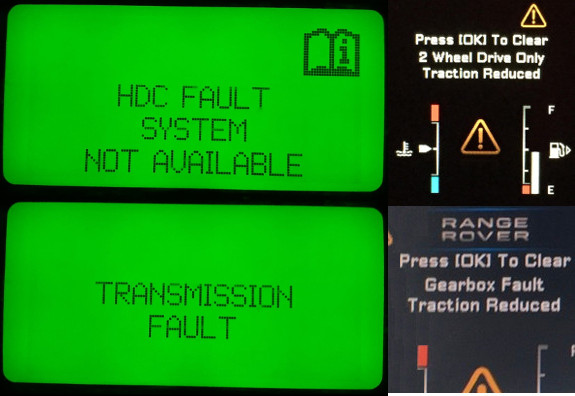 What Haldex System is fitted to which Land Rover Range Rover Applications?
Land Rover Freelander 2 L359 2007 – 2008 upto VIN/Chassis Number (last 8 digits) 8H999999 and 7H999999 = Gen 3
Ranger Rover Evoque L538 2011 2012 2013 2014 2015 before VIN (last 8 digits) FH99999 = Gen 4
Land Rover Freelander 2 L359 2009 – 2015 after VIN (last 8 digits) 9H000001 onwards = Gen 4
Land Rover Discovery Sport L550 2015 to 2017 HSE, HSE Luxury, SE = Gen 5
Range Rover Evoque L551 2016 to 2018 Autobiography, HSE, HSE Dynamic, Landmark Edition, SE, SE Dynamic, SE Premium = Gen 5
Note: Ranger Rover Evoque and Land Rover Discovery Sport are fitted with either "Efficient Driveline" which is Generation 5 Haldex or "Dynamic Driveline" which is made by GKN Driveline, not a Haldex system.
Note: Gen 3 and Gen 4 Haldex couplings complete are interchangeable, e.g. they will both fit into the differential casting. Control Units / ECU, Pumps, Filter etc are not interchangeable, e.g. Gen 4 parts only fit Gen 4, and Gen 3 parts only fit Gen 3.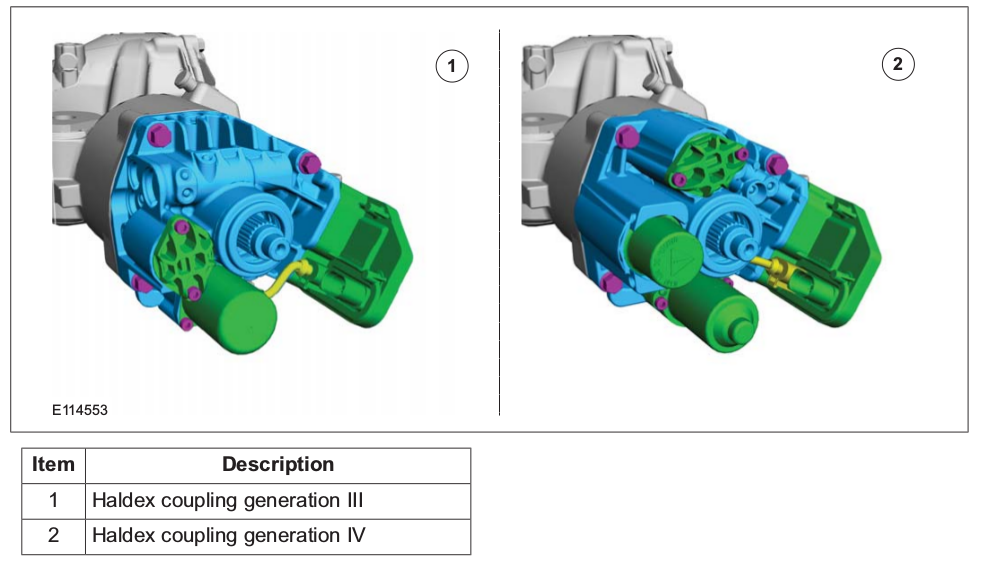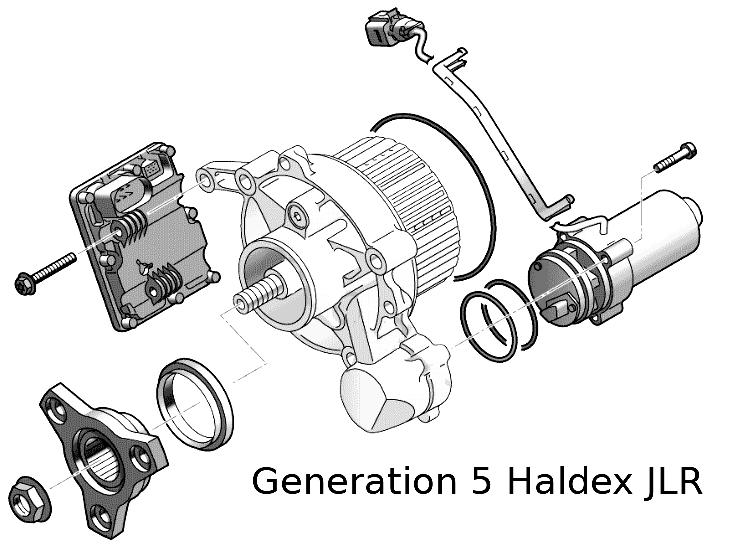 No Fault Codes Stored AND scrabbling or grabbing or skipping or jumping or locked diff sensation going round tight turns, on lock etc.
This is very common indeed, possibly the second most common Land Rover Haldex fault after the p1889 issue. Often these scrabbling Land Rovers gets passed from pillar to post trying to find anyone to resolve it, and often the previous messing about has caused more problems along the way!
Quite simply, the very first test which should be done with this problem –
UNPLUG THE HALDEX ECU, LEAVE FOR 20 MINUTES, THEN DRIVE TO SEE IF THE SCRABBLING ISSUE STOPS:-

If it no longer scrabbles (but you will get warning messages on the dash), then you are mechanically good, and this is just a control system issue – most often the N373 control valve is stuck open (we sell them here), replace the N373, the filter and oil, ensure a good blow out the oil route between the N373 Valve and the filter with the air line while the filter is removed.
If it still scrabbles, then the Haldex clutch pack is mechanically defective as it is sticking together or jammed inside. Replacement of the coupling is required.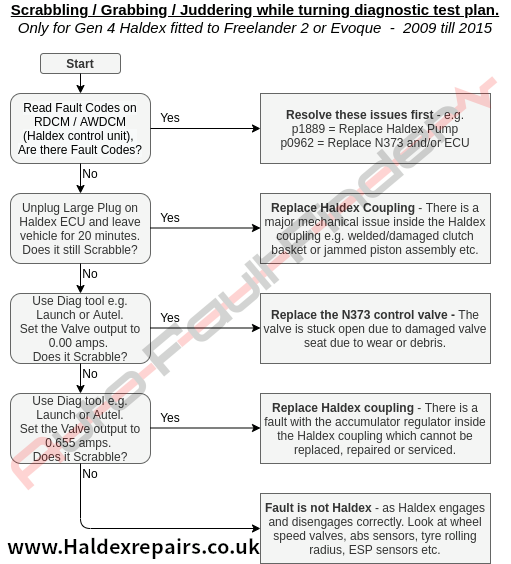 The most common cause of this issue is people using Diff/Gear oil (like a gear oil, e.g. 75w90 etc) in the Haldex coupling. We have people telling us every week that somewhere has supplied gear oil (often main dealers or transmission specialists) for doing a Haldex service, and now it scrabbles. Once gear oil has been used, we have not managed to stop the scrabbling problem, even after stripping the whole Haldex clutch basket and washing the plates down with various solvents, detergents and degreasers. We suspect the additives in the oil have an adverse reaction with the materials on the plates but this is just a suspicion.
Fault Code Lead Common Solutions
P0960 = Pressure Control Solenoid A – Control Circuit – Open
This is caused by either a faulty haldex control unit, often by corrosion inside, or by damage to the N373 Control Valve. We can normally repair these Haldex Control units showing this issue as part of our mail order repair service here, or offer a replacement unit here.
P1889-14 = Oil Pressure Pump Performance – Circuit Short To Ground or Open Circuit
This is the most common issue with the Generation 4 Haldex systems on Land Rover / Range Rover vehicles from 2008 to 2015, it is very common around 40k to 60k miles on the clock. Some scanners will just read it as "P1889 Pressure Pump Performance", but a decent scan tool will give you the status bytes at the end "14" which tells you it is open circuit etc. Often this code will clear, but give it 3 days, 3 weeks or 3 months it's always back! Just tapping the pump with a spanner often makes a totally non working pump spring back into life briefly.
This fault is caused by the brushes and commutator inside the Haldex pumps motor being worn out. The only real solution is to replace the pump, along with the oil and filter cartridge which we sell here. Most vehicles require the prop shaft to be removed in order to get the required space to swap the pump. The whole job takes around 2 to 3 hours by a competent garage. No coding or programming etc is required. There is a Land Rover "TECHNICAL BULLETIN LTB00795NAS1 03 AUG 2015" about this issue, which talks about a software update, but this is not a software issue, it is 100% a faulty pump. No amount of servicing/oil changing will resolve this issue.
P1889-74 = Oil Pressure Pump Performance. Mechanical Failures. Actuator slipping & P1889-7A = Oil Pressure Pump Performance. Mechanical Failures. Fluid leak or seal failure
This is a problem we have come across a few times now, the description is somewhat misleading! It describes it as "Mechanical Failure Actuator Slipping", but this is in the contexts of the pump, not the clutch itself. Basically it is running the pump, but it isn't making the required pressure to turn off, thus it is some kind of internal leak, or no/low fluid etc.
We have come across 3 examples of this where the Haldex has just had previous work elsewhere requiring the front drive flange to be removed (e.g pump replacement or servicing). But when the flange has been reinstalled, a bearing inside the coupling has been dislodged and then reassembled unknowingly incorrectly inside. This completely bends the working piston etc inside the coupling and the only solution is to replace the whole coupling itself. This is not a massive task – again about 3 hours work by a competent garage – remove the exhaust, swing the prop out of the way, withdraw the coupling and replace etc.
P0961-62 = Pressure Control Solenoid A – Control Circuit Range Performance – Algorithm Based Failure (Generation 4 Haldex Units)
This is a common issue with Land Rovers! Often the fault will present itself after the vehicle has been driven for 10 to 20 Minutes, then as the vehicle slows down for example to a junction or to stop, the message "Tranmission Fault" or "Traction Reduced" pops up. There is a Land Rover "Technical Bulletin LTB00843NAS1 08 Oct 2015" covering this issue, but their documented fix does not work!
We have spent alot of time experimenting with this issue as we have a glut of control units that have this exact fault. Land Rover's solution is a software update, but we have tried it many times without success. We have confirmed this is a fault on the Haldex Control unit circuit board, by swapping the "faulty units" software onto a new board, which then works flawlessly. Many many hours of experimentation has been invested into this issue, and it has been 100% concluded that it is a fault on the circuit boards somewhere (but have yet to pin that one down!). We can supply replacement Haldex units, fully pre programmed for plug and play installation.
VIN Mismatch U3002-81 Vehicle Identification Number- invalid serial data received
Some RDCM/Haldex Control units are actually uniquely programmed to the individual vehicle, and if swapped onto another vehicle with a different VIN/Chassis number it will give an error code and message on the dashboard regarding "Transmission Fault" or "Traction Reduced". Currently there are no diagnostic tools on the market that will reprogram the VIN number once it has been set. We have found some customers have bought "Service Exchange" Haldex controllers direct from Land Rover Dealers, with the label "Genuine Land Rover Approved Part" on a blue sticker, only to find when they try to use them they are already VIN locked from the original donor vehicle.
It seems that Land Rover them selves do not fully understand the quirks of these units. The VIN locked units have been Gen 3 Haldex units from pre 2009 Freelander, and Range Rover Evoque after 2013. But which are VIN programmed and which are not seems to be random. If you send in a Haldex unit with this fault using our mail order repair service, we can clear the VIN information so it will work on any vehicle.
U0136-87 or U0136 No communication with Differential Control Module (RDCM)
Fault codes are often U0136-00 on the ABS system, U0136 on the BCM, U0136-87 Lost Communication with Differential Control Module Rear on the ATCM. There are a few causes for this fault. Either the wiring to the Haldex controller is corroded under the car somewhere, often it is one of the CAN lines on pins 7 or 8. The fuse is blown for the RDCM/Haldex unit.
The other cause which is the most common is a defective Haldex Control unit – we can test these free of charge by mail order. The common issue is the circuit board burns out between the ground inside and the CAN lines, it seems a common issue when the car has been started with a flat battery then jump started. These burnt boards cannot be repaired, but we can replace them.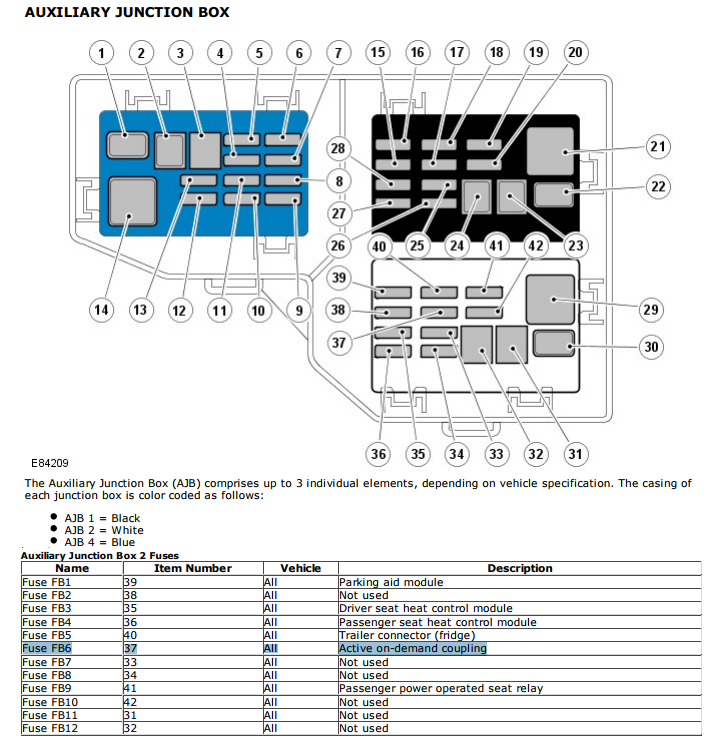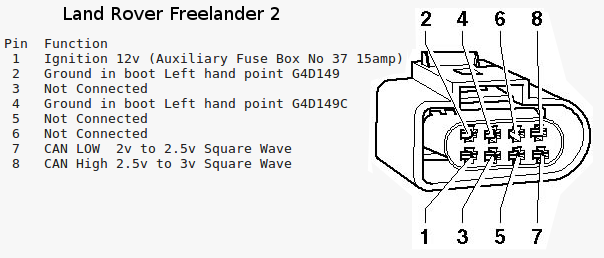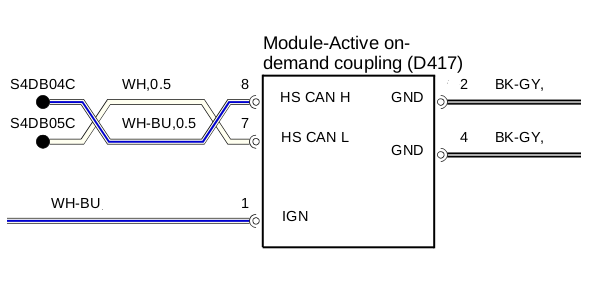 Removing the Propshaft from Drive Flange
To carry out most repairs and servicing normally the prop shaft has to be removed along with the front drive flange from the Haldex coupling. Often people struggle to remove the prop shaft from the flange even though the bolts are removed. The easiest way is to use the existing bolts and plates as per the pictures below:-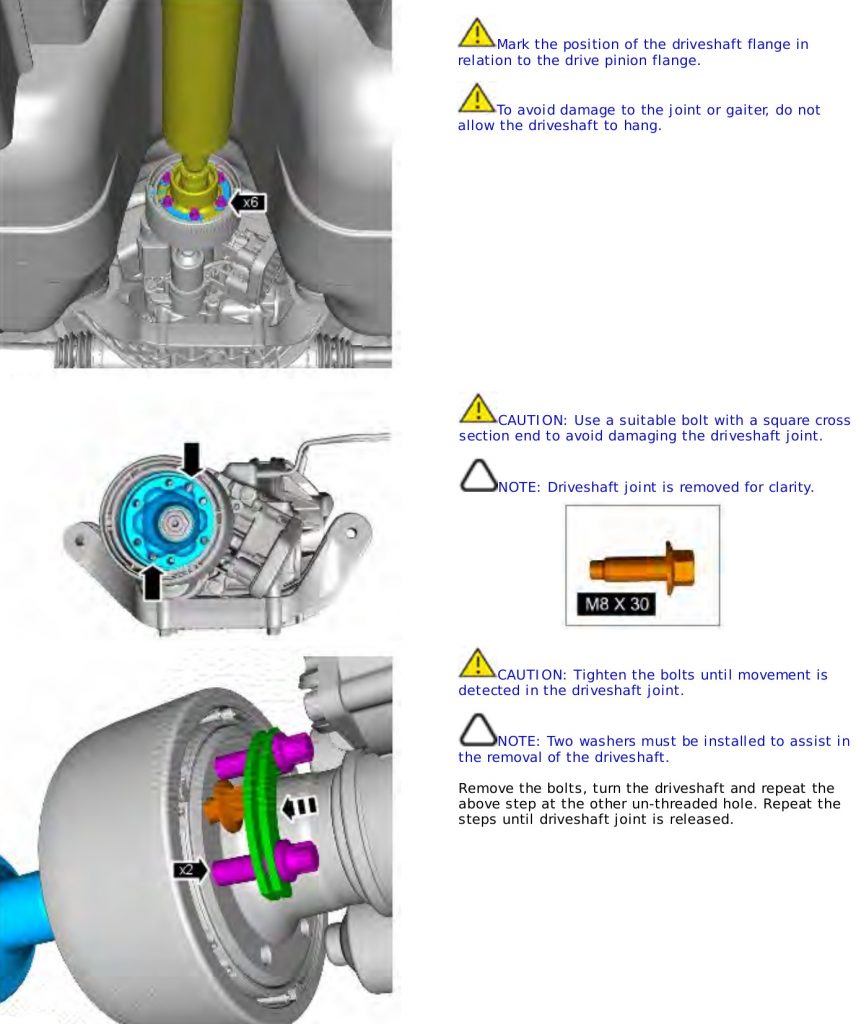 Full List of Fault Codes for Land Rover / Range Rover Haldex RDCM
P0560-17 System Voltage – circuit voltage above threshold
P0602-54 Powertrain Control Module Programming Error – missing calibration
P0607-49 Control Module Performance – internal electronic failure
P0666-11 PCM / ECM / TCM Internal Temperature Sensor Circuit – circuit short to ground
P0666-15 PCM / ECM / TCM Internal Temperature Sensor Circuit – circuit short to battery or open
P0667-27 PCM / ECM / TCM Internal Temperature Sensor Range/Performance – signal rate of change above threshold
P0748-14 Pressure Control Solenoid A Electrical – circuit short to ground or open
P0748-1D Pressure Control Solenoid A Electrical – circuit current out of range
P0932-11 Hydraulic Pressure Sensor Circuit – circuit short to ground
P0932-15 Hydraulic Pressure Sensor Circuit – circuit short to battery or open
P0937-11 Hydraulic Oil Temperature Sensor Circuit – circuit short to ground
P0937-15 Hydraulic Oil Temperature Sensor Circuit – circuit short to battery or open
P0938-27 Hydraulic Oil Temperature Sensor Range/Performance – signal rate of change above threshold
P0961-62 Pressure Control Solenoid A Control Circuit Range/Performance – signal compare failure
P1889-12 Oil Pressure Pump Performance – circuit short to battery
P1889-14 Oil Pressure Pump Performance – circuit short to ground or open
P1889-49 Oil Pressure Pump Performance – internal electronic failure
P1889-74 Oil Pressure Pump Performance – actuator slipping
P188A-68 Differential Oil Temperature Too High/Too Low
U0001-00 High Speed CAN Communication Bus
U0100-00 Lost Communication With ECM/PCM "A"
U0121-00 Lost Communication With Anti-Lock Brake System (ABS) Control Module
U0138-00 Lost Communication With All Terrain Control Module
U0140-00 Lost Communication With Body Control Module
U0300-00 Internal Control Module Software Incompatibility
U0300-4A Internal Control Module Software Incompatibility – incorrect component installed
U0401-68 Invalid Data Received From ECM/PCM – event information
U0415-00 Invalid Data Received From Anti-Lock Brake System (ABS) Control Module
U0418-68 Invalid Data Received From Brake System Control Module
U2101-00 Control Module Configuration Incompatible
U3002-81 Vehicle Identification Number- invalid serial data received
U3003-62 Battery Voltage – signal compare failure
Part numbers from the Label on the side of the ECU
hap542 5wp33501-01 (Gen 3)
hap542 5wp33501-02 (Gen 3)
hap542 5wp33501-03 (Gen 3)
hap542 5wp33501-04 (Gen 3)
hap542 5wp33501-05 (Gen 3)
hap542 5wp33501-06 (Gen 3)
hap542 5wp33519-01 (Gen4)
hap542 5wp33519-02 (Gen4)
hap542 5wp33519-03 (Gen4)
hap542 5wp33519-04 (Gen4)
hap542 5wp33533-01 (Gen4)
hap542 5wp33533-02 (Gen4)
hap542 5wp33533-03 (Gen4)
hap542 5wp33533-04 (Gen4)
hap542 5wp33533-05 (Gen4)
hap542 5wp33533-06 (Gen4)
JLR Part Numbers for replacement parts direct from Land Rover
LR007757 / LR006717 = Generation 3 Haldex Control Unit RDCM
LR139486 / LR126296 / LR008956 / LR055990 = Generation 4 Haldex Control Unit RDCM
LR139418 / LR073537 = Generation 5 Haldex Control Unit RDCM
LR003147 = Haldex Pump for Gen 3, Freelander 2 2007 and 2008
LR008958 / LR075763 = Haldex pump for Gen 4, Freelander 2 2009 onwards and Evoque pre 2016
LR051321 = Haldex Pump for Gen 5, Evoque 2016 onwards, Discovery Sport 2016 onwards
NOT AVAILBLE @ LAND ROVER = Haldex Filter for Gen 3 Freelander 2 2007 and 2008
LR032298 = Haldex Filter for Gen 4 Freelander 2 2009 onwards and Evoque pre 2016
LR124825 = Range Rover Evoque 2015 > + Discovery Sport 2015 > LR "Remanufactured" Gen 5 Pump
LR125175 = Freelander 2 2009- 2014 + Range Rover Evoque 2012 > LR "Remanufactured" Gen 4 Pump
Software Versions
6G9N-4C045-AF = Freelander 2 2007,2008 Gen 3 Haldex
6G9N-4C045-AG = Freelander 2 2007,2008 Gen 3 Haldex
8G9N-4C045-BB = Freelander 2 2007,2008 Gen 3 Haldex
AG92-4C045-AA = Freelander 2 2009, 2010 Gen 4 Haldex
AG92-4C045-AB = Freelander 2 2009, 2010 Gen 4 Haldex
AG92-4C045-AC = Freelander 2 2009, 2010 Gen 4 Haldex
BH52-4C045-AA = Freelander 2 2011,2012 Gen 4 Haldex
BH52-4C045-AC = Freelander 2 2011,2012 Gen 4 Haldex
BJ32-4C045-AC = Evoque 2012, 2013 Gen 4 Haldex
BJ32-4C045-AD = Evoque 2012, 2013 Gen 4 Haldex
BJ32-4C045-AD = Evoque 2012, 2013 Gen 4 Haldex
DH52-4C045-AB = Freelander 2 2013, 2014, 2015 Gen 4 Haldex
EJ32-7B762-CE = Evoque 2014,2015 Gen 4 Haldex
Oil Filling Methods for Differential and Haldex Coupling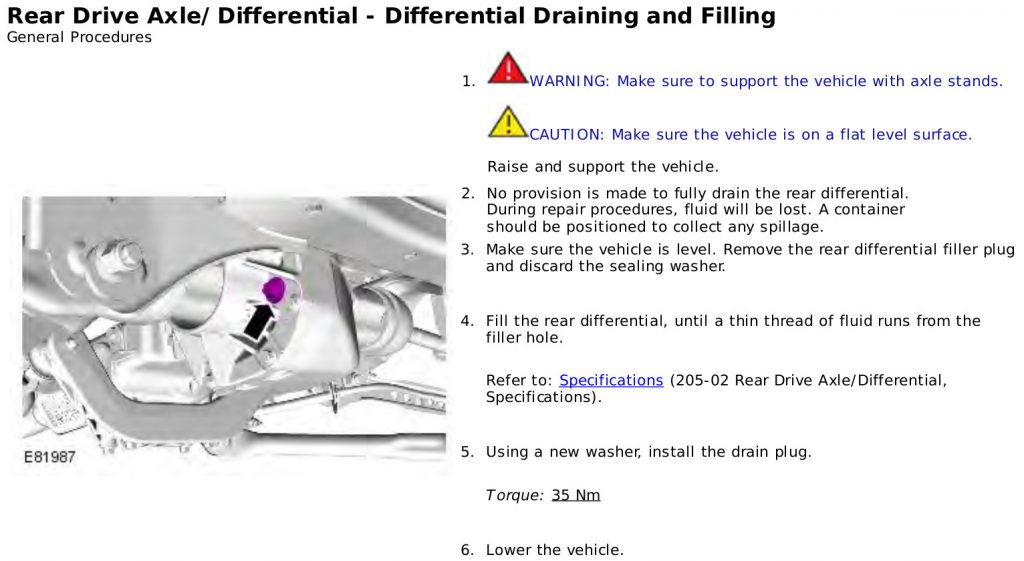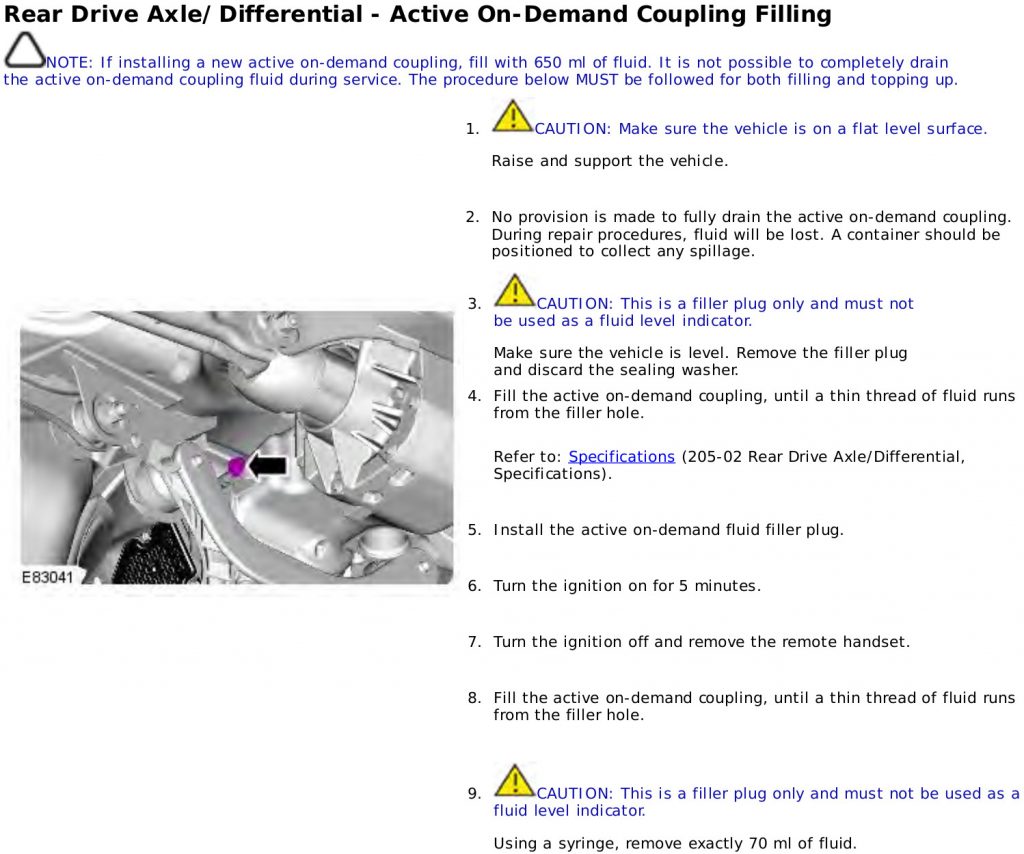 Tightening / Torque Values for Haldex Coupling, Propshaft and Differential in Nm Newton Metres and Lb-Ft Foot Pounds